V prostorách Národního domu byla slavnostně otevřena stálá expozice Mistra Franty, tedy Františka Mertla. Česko-francouzského malíře, jehož díla můžeme najít třeba v Guggenheimově muzeu v New Yorku, pařížském Centre Pompidou, Picassově muzeu v Antibes nebo v muzeích japonského Tokia či Nagoyi.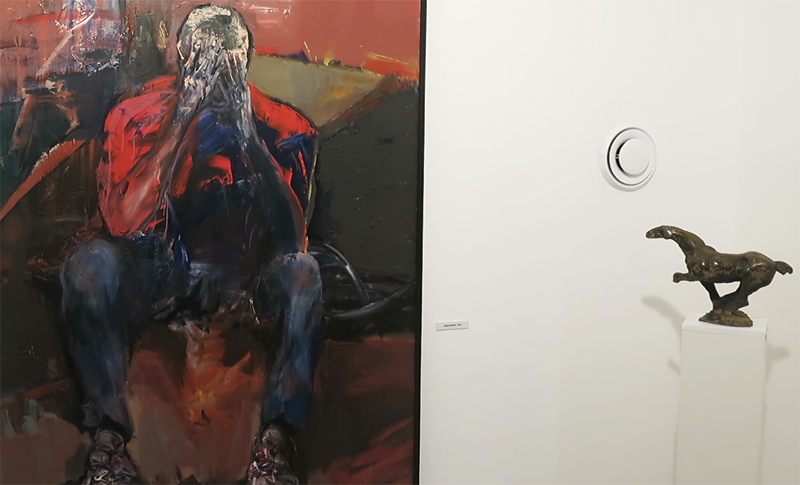 Třebíč po boku těchto světových kulturních svatostánků nestojí náhodou. Franta se totiž v našem městě roku 1930 narodil, a i když velmi brzy přesídlil do Brtnice a Prahy, aby v roce 1958 emigroval do Francie, na své rodné město nezapomněl. Pod podmínkou, že zde vzniknou adekvátní výstavní prostory vhodné pro stálou výstavu, mu věnoval několik desítek svých děl v hodnotě asi 15 milionů korun.
Čestný občan František Mertl
"Je to expozice, kterou nám určitě bude závidět celá naše republika," řekla krajská radní Marie Kružíková na vernisáži. "Hluboce se před mistrem skláním a vyjadřuji dík, že nezapomněl na své rodné město, na svůj rodný kraj a věnoval nám takový obrovský dar."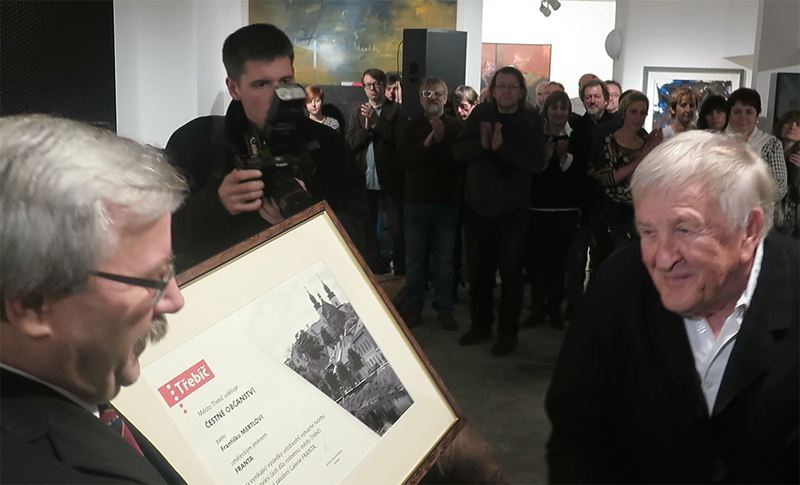 Zastupitelstvo města letos v létě jmenovalo Františka Mertla čestným třebíčským občanem, a tak na vernisáži došlo i ke slavnostnímu předání certifikátu o tomto jmenování. Mistr Franta převzal plaketu z rukou nového starosty Pavla Janaty, který prohlásil, že v nové galerii má svůj projev prakticky zcela nezaslouženě.
"Já jsem totiž přišel k hotovému," glosoval Janata. "Jsem starostou města necelé dva týdny a už z toho je zřejmé, že všechno, co bylo potřeba vykonat, připravit a zorganizovat, bylo hotovo dříve, než jsem se k tomu vůbec dostal."
To by však nebylo až tak zvláštní, starostové odstupují a nastupují a někdo holt prostory předat musí, i když je ve funkci jen chvíli.
"Zajímavostí ale je, že první věcí, kterou jsem v pozici starosty města druhý den po svém zvolení podepisoval, byla smlouva na předávací protokol, kterým přešlo toto darované dílo do vlastnictví města Třebíče. Myslím si, že mé starostování v Třebíči nemohlo začít lépe a radostněji," dodal starosta s úsměvem.
Reakce na války a terorismus
Franta se orientuje zejména na figurální malbu, přičemž ho velmi inspirovaly cesty do Afriky.
"Jednalo se o Frantovy cesty do zemí, jako je Senegal, Burkina Faso, Mali, Keňa, Gambie a Nigérie," sdělila kunsthistorička Marie Dohnalová s tím, že právě na černém kontinentě objevil mistr přirozenou krásu lidské postavy a našel tam bytosti, které jsou pevně spjaty přírodou. Právě obrazy z těchto cest se později dostaly do věhlasných sbírek jmenovaných výše. Dalším významným motivem, který mistrovo dílo provází, je ryzí humanismus, jímž reaguje na války či teroristické atentáty.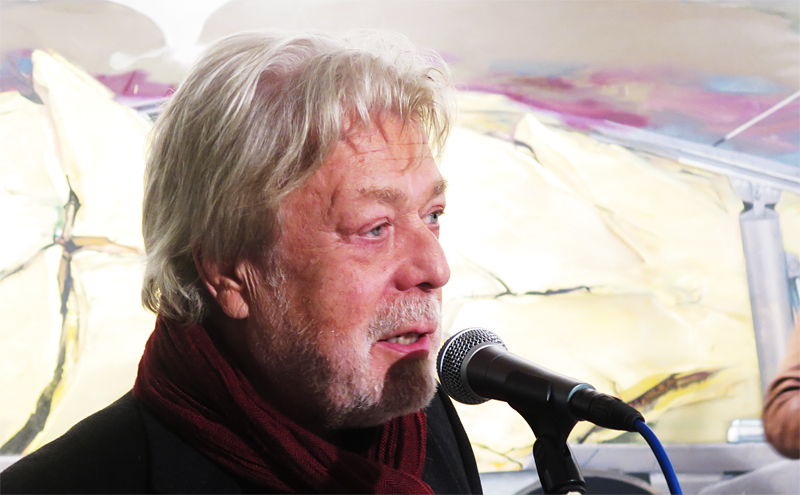 Energie z Franty přímo čiší
Na otevření galerie se přijel podívat také Frantův kamarád, známý herec Jan Kanyza, který je zároveň i vynikajícím malířem. Ten se s mistrem poznal před lety ve Francii, kde si pronajal ateliér.
"Dělí nás skoro šest set kilometrů. Po dálnici. Placené dálnici," rozvinul Kanyza zajímavý příběh. "Nicméně s velkou radostí zajíždím do Vence, kde Franta žije, a týden, deset dní tam pobývám. Pro mě je to vždy obrovský přínos energie. Ale co je zajímavé... Franta žije v prosluněné Provence. Mým osudem se staly zachmuřené Čechy s frontálními poruchami, nízkou oblačností a občasnou ledovkou. Nicméně kdykoli, a nezažil jsem to u nikoho jiného, kdykoli telefonuji s Frantou, to provensálské slunce se přenese přes telefon, a není to proto, že mám takzvaný chytrý telefon. Ne. Rozsvítí se to, rozzáří se to, když mi řekne, kam se chystá, kde byl, co navštívil, jakou výstavu připravuje, nebo že jde do dílny. Skrze ten telefon se přenese tolik energie, že já se nesmírně těším, až zavěsím, že sám půjdu do ateliéru a budu něco dělat."
Plátno ožije tehdy, když se na něj někdo podívá
Nechybělo samozřejmě ani vyjádření toho nejpovolanějšího, tedy samotného mistra Franty.
"Jsou to krásné prostory a jsem nesmírně šťastný, že jste mi dali příležitost se zde usadit. Může existovat to nejkrásnější plátno, ale když je zavřené někde v garáži či ve skladišti, tak nežije," prohlásil Franta. "Ožije teprve, až se na něj někdo podívá," dodal s tím, že se těší na ty, kteří se na jeho obrazy přijdou podívat a navázat s nimi nějaký dialog.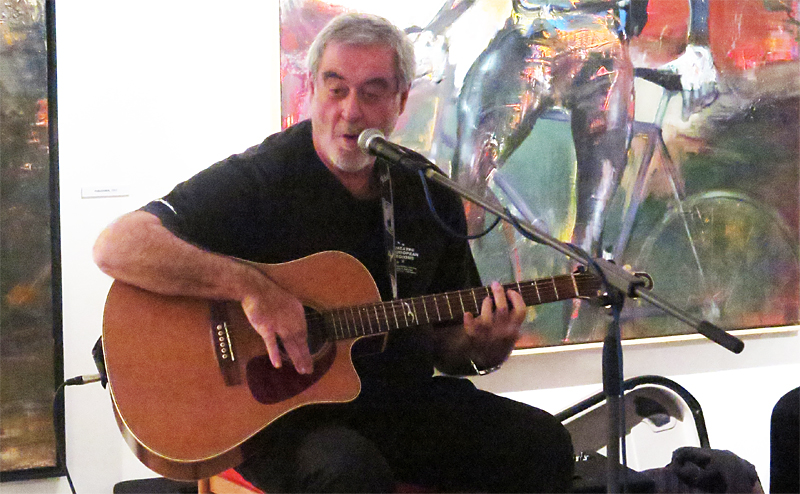 Ať už jste třebíčského rodáka Františka Mertla alias Frantu v minulosti znali či neznali, každopádně ode dneška se s ním a jeho tvorbou můžete seznámit opravdu důkladně. Jeho obrazy a sochy budou mít v Třebíči navždy pevné místo v galerii, která ponese jeho jméno. Navštívit ji můžete každý den kromě pondělí.
Autor: Milan Krčmář
Publikoval: -mib-